Revered Kenyan attorney Cliff Ombeta has opened a time he escaped the Tanzanian police station after being arrested.
In a conversation with Daily Nation published on Sunday, August 8, the attorney revealed that he had picked up his 10 clients when the tables turned and they were all behind bars.
Its customers were accused of robbing the Tanzanian National Bank of Commerce (NBC) at its Moshi branch, where authorities claimed they had abolished Ksh 244 million (at today's exchange rate) on May 21, 2004.
Attorneys representing the suspects claimed the 10 were illegally arrested in 2005 after winning a case against their extradition.
Embakasi East MP Babu Owino, accompanied by his lawyer Cliff Ombeta, will review court documents in the Millimani courts on January 27, 2020.
Daily nation
In his case, Ombeta announced that he was picked up at Maputo International Airport while flying to Nairobi after going to Tanzania to pick up his clients.
He also accused the Kenyan police officers of being involved in their problems and stated that they had confiscated their passports and ordered them to travel via another line.
Ombeta told the publication that he was thrown into a van and driven to the Tanzanian border, where he was taken to a police station waiting to be processed.
"The Kenyan police brought our people to Tanzania," he said.
His big break, however, came when a police officer who was supposed to be monitoring him was distracted and gave him a window to change and put on a cap.
"I changed and wore a hat. I unlocked the door, went out, left my bag, went to the Mozambican side and took a taxi back to Maputo.
"We had defeated the Tanzanians in court twice and they wanted to arrest me because I was defending the Kenyans," he added.
When he arrived in Maputo, Mozambique, he took a taxi and crossed the border into South Africa, from where he booked a flight to Nairobi.
In the meantime, his clients were detained until three of them, including William Onyango Nganyi, Patrick Muthee Mrithi and Simon Ndungu Kiambuthi, were released after serving 15 years in prison.
The Tanzanian Court of Appeals ruled on July 3, 2020 to release her.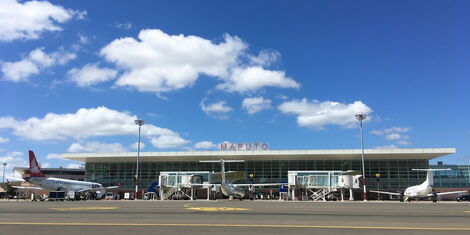 Entrance to Maputo International Airport.
Twitter